It came as no surprise to the people who know and love me that I knitted my own wedding dress. I still don't know where the idea came from but once I had it, it took hold and I couldn't stop until I had done it! It was a simple project in the end. Very lengthy but so worth while. I highly recommend it!
I am also proud that I managed to keep the whole thing a secret from my husband.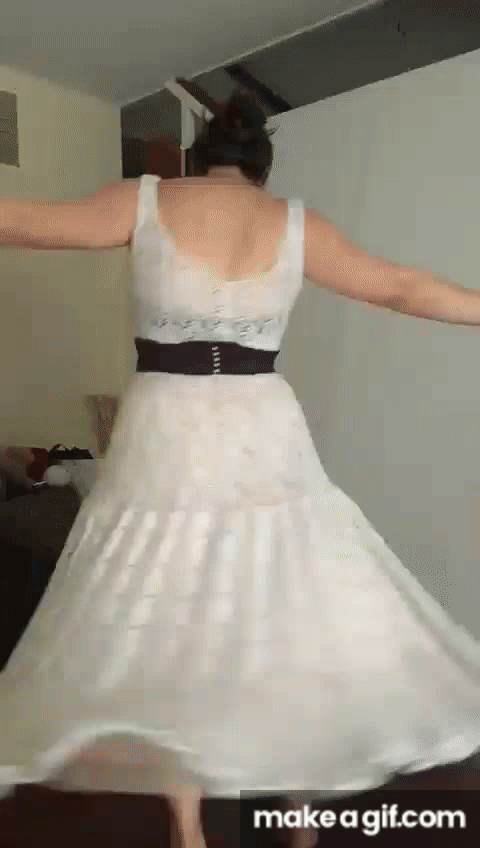 You will need:
Good quality circular needles: I used Addi Click Lace
Lace weight wool: I used Patons Lace Sequin in Crystal
Stitch markers
Imagination
Many a good film or TV series to keep you company
The skirt
As soon as I saw Renata Brenner's Heliotaxis Pi Shawl I fell in love. I knew I wanted a leafy design in my dress and this could not have been more perfect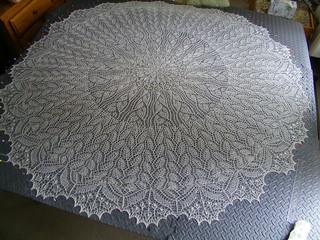 The shawl pattern is available on Ravelry and is really easy to follow. It knits up really quickly and it really looks like I worked much harder at it than it felt like I did.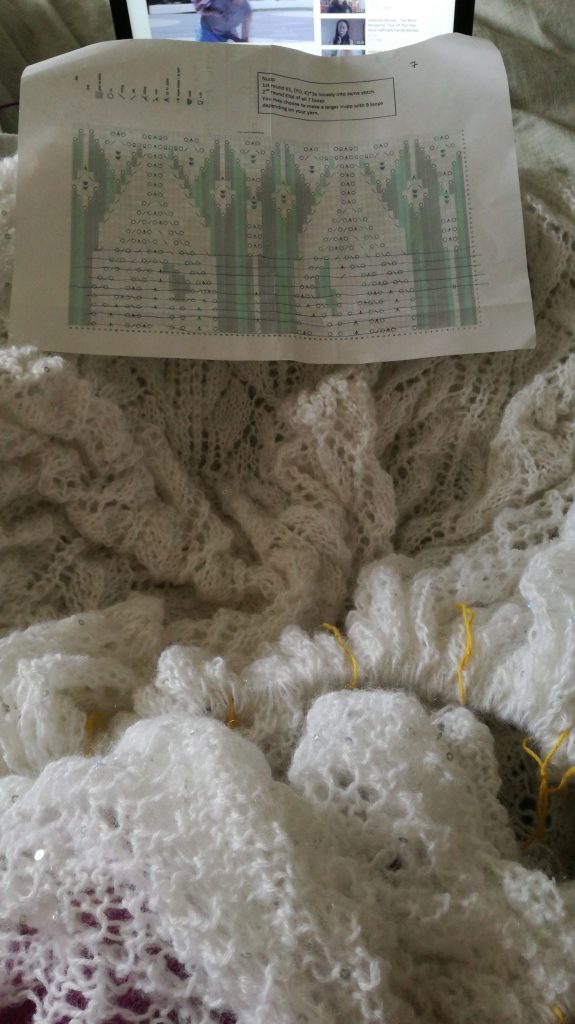 The Pi shawl was created by Elizabeth Zimmerman and is explained in great detail in her book: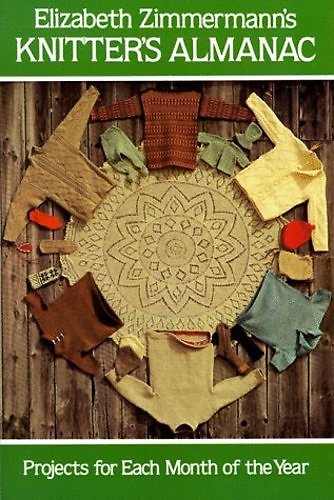 If you follow her basic principle you can have any design you like for your skirt. You can make it as simple or as complicated as you like.
To make it a skirt rather than a shawl I skipped the first rounds and started at row 26 by casting on 144 stitches onto 5mm needles.
I follow the pattern exactly using stitch markers to keep track of where I was.
At the very end, to add a little more flare, I gradually increased the needle size. From row 103 I did 2 repeats in 5mm and then I went up 1mm at each repeat until I was at 8mm. I them finished of with the 8mm needles.
The finished skirt: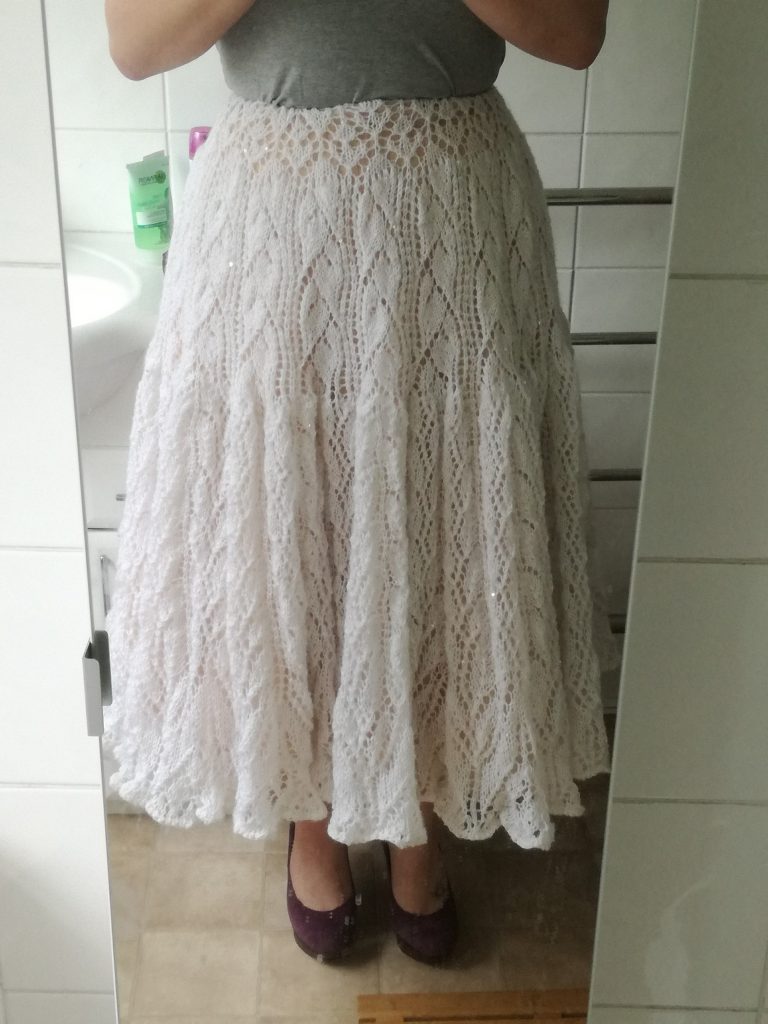 The top
The top was a piece of cake… I made this (available on eBay) :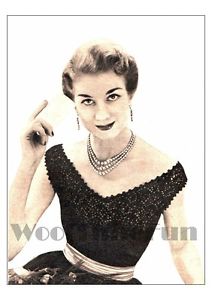 I knitted 2 the same (front and back). The lace is so loose that there is no need to knit 2 panels for the back – I just wanted it to look like there were so I sewed buttons down the middle.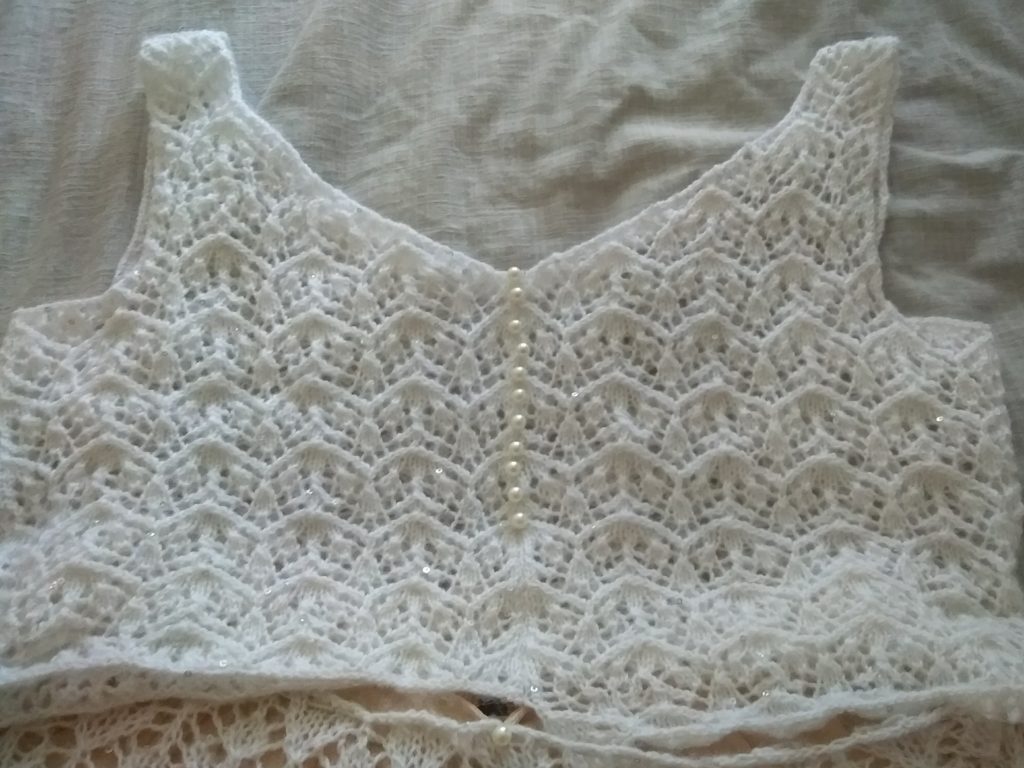 Making up:
I put both pieces on (many times) and sent endless photos to my long-suffering sister:
We started looking for embellishments to match my purple shoes:
…before settling on the dark purple you see in the final images.
I finally put the outfit on all together to decide how it should sit. My sisters decided that the skirt was too long so I ended up weaving elastic in about 2 inches from the original cast on and pulling it tight. This actually looked quite nice because it created a bit of extra "puff" around the hips. I decided to sew the top and bottom together after this so it would all stay in place on the day.
I bought a tutu skirt in the ASOS sale to go under the skirt and then I had to worry about the top.
I took a cheap white spaghetti strap vest top, turned it inside out and draw a sweetheart neckline on it. I recycled the spaghetti straps to edge it and the sewed this into the dress. It was not neat or pretty but no-one could see it!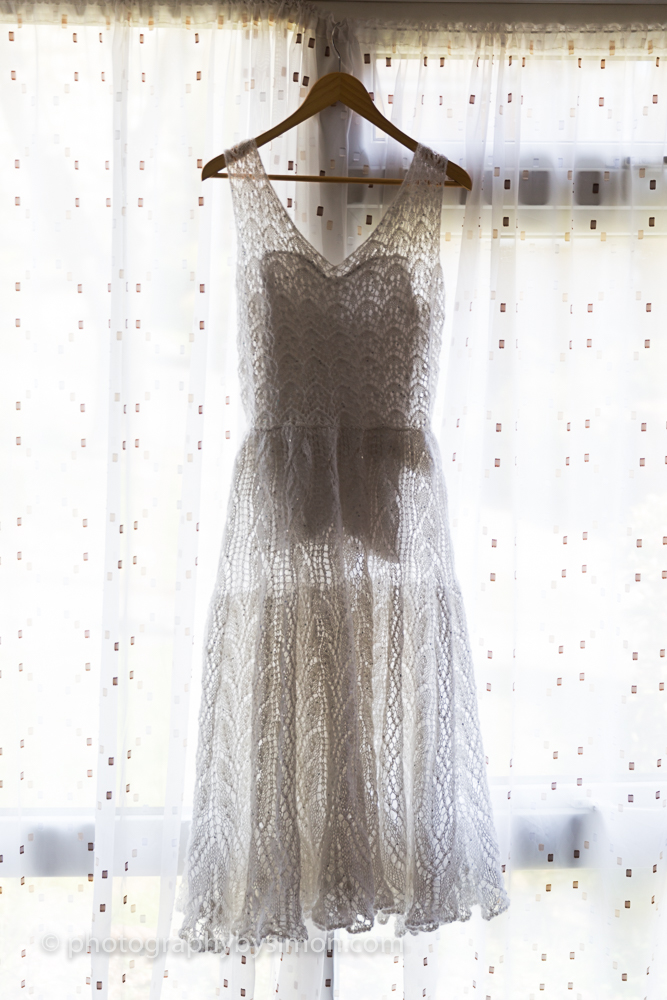 And so: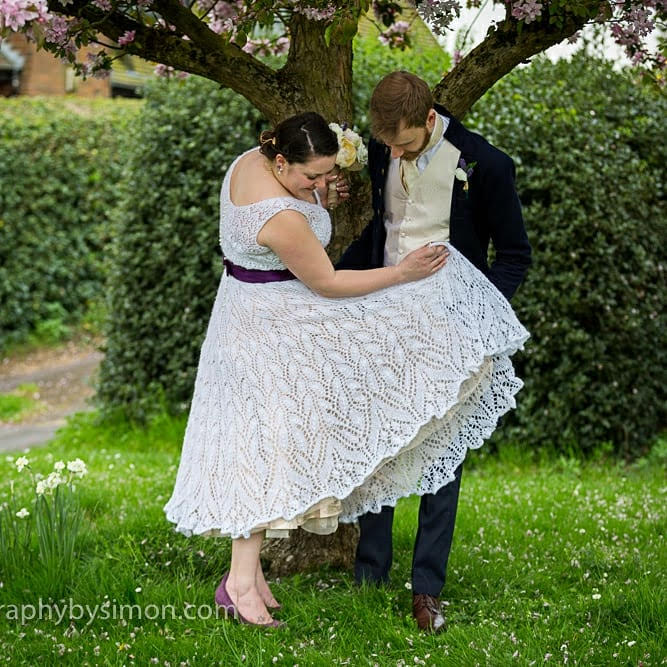 What I learnt:
Knit a test square: I don't always because I roughly know my tension with most wools but lace knitting is so different and comes out different each time so practising your tension will make it a more uniform piece.
Know what you want: The design is really important. You have to know where you're going before you start or you end up with mismatched pieces and something that doesn't quite fit right.
Don't sweat the detail: I made SO many mistakes in this dress. At first I would unpick and correct every mistake but as the dress progressed most minor errors were hidden in the overall design and I only knew they were there because I stared at it for so long while making it.
Just start: The hardest part was starting. I thought it was ridiculous to think I could knit my own wedding dress but I started and then just kept going.