I love gifting my knitting. There's nothing better than using up that ball of wool that you bought with nothing in mind. Using it for a project and giving it away. It gives me all the joy of crafting and none of (well, a reduction in) the clutter.
Tablet cases are such a good way of using up an interesting ball of wool on something practical and pretty. They are so easy to customise and make your own.
Take these 2 – I'll let you guess which is mine and which is my husband's…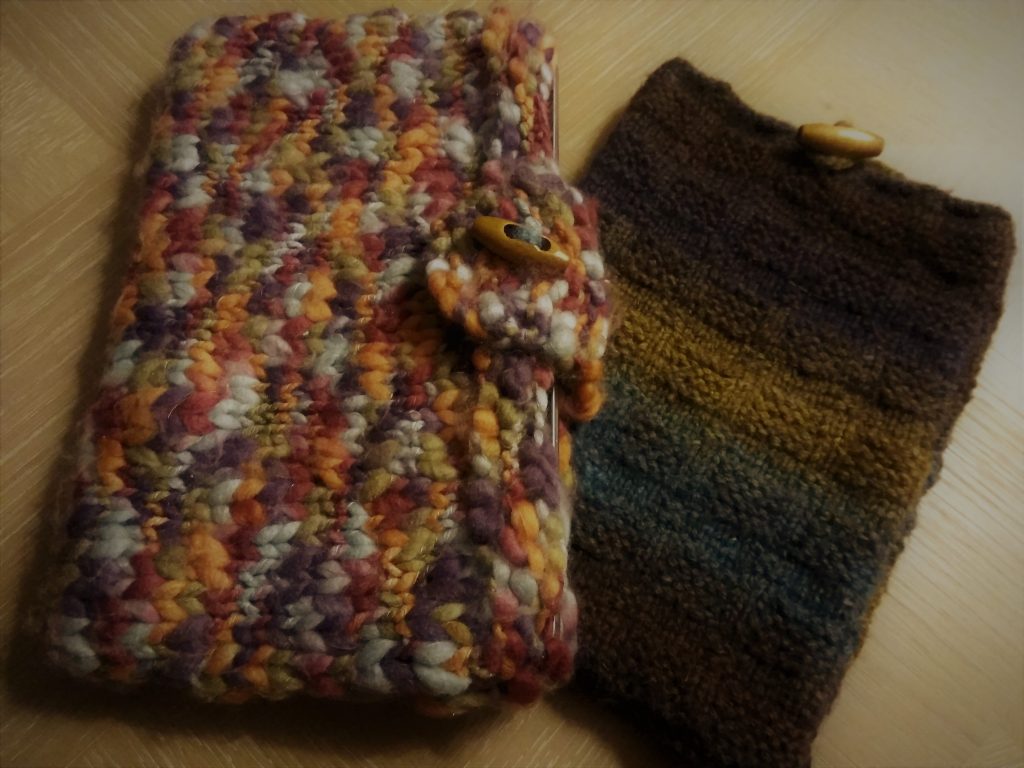 Both of these were made with a wool that I had bought with no purpose until I got bored one day and decided to make these.
Making your own is so easy.
Measure your tablets height and width.
Knit a swatch of your wool to work out number of stitches and rows needed.
A few calculations and then off you go…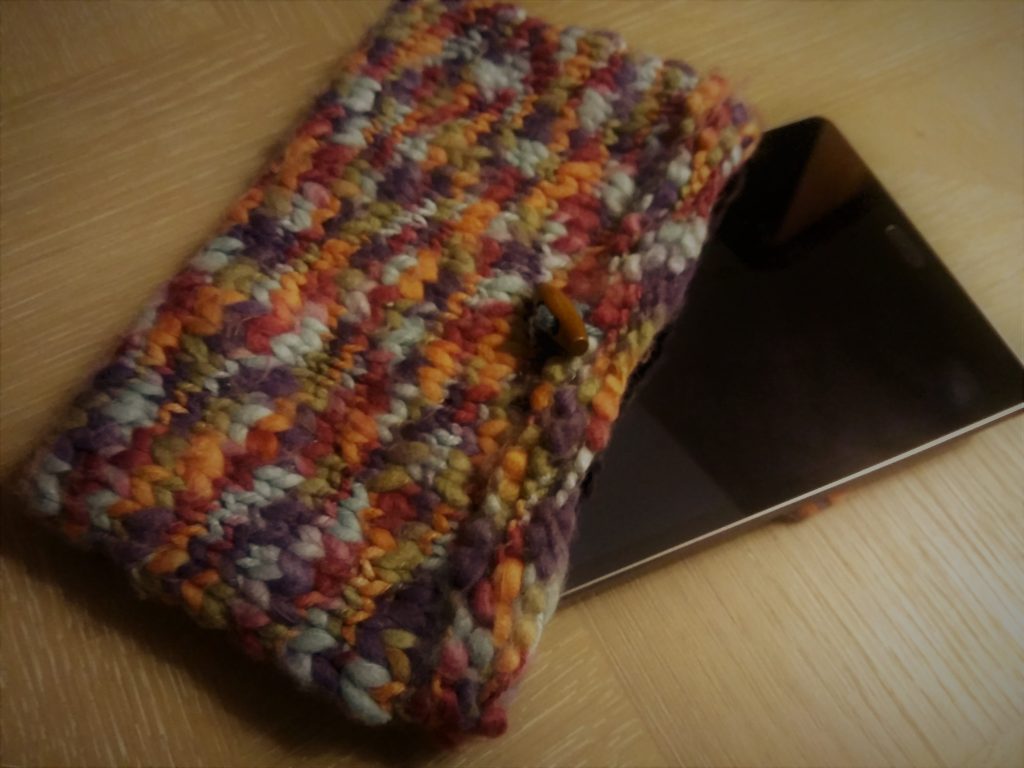 For this side opening case:
Use your test swatch measurements to cast on the number of stitches needed to match the height of your tablet.
Calculate the number of rows that would equal double the width of your tablet.
Work out the desired number of stitches for the width of your button band.
(Subtract this from the total number of stitches and divide by 2 – keep this number for later)
Cast on required stitches and complete 4 rows of garter stitch.
Stocking stitch until you have desired number of rows minus 4 and then finish with 4 rows of garter stitch.
Now cast off the number of stitches from your calculation and work to end.
Cast off the same number of stitches again and you will be left with the stitches for a button band.
I worked in garter stitch with a (K2tog YO) for the buttonhole.
Fold over and sew up the edges.
You can customise this in a number of ways:
Work width x2 and then extra to have a fold over flap.
Have 2 button bands
Garter stitch throughout (but bare in mind that this will give your case extra stretch.)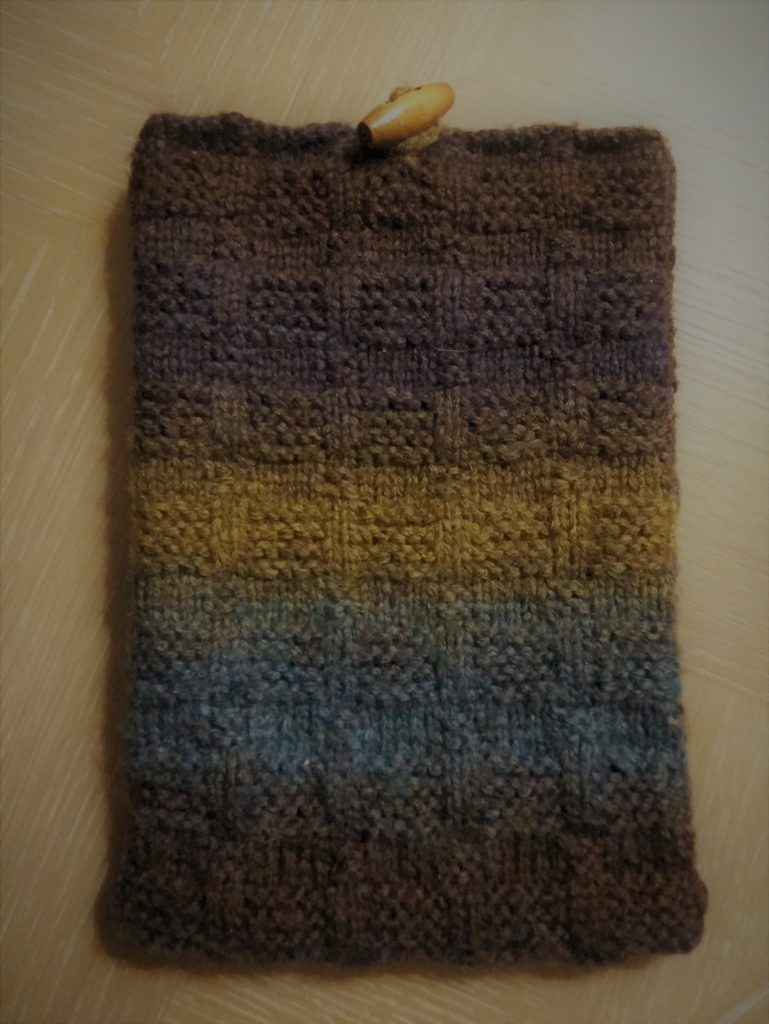 For this top opening case
Cast on the number of stitches that would match the width of your case.
Calculate the number of rows that would equal double the height of your tablet.
I used a basket weave stitch for this as I thought it suited the wool and so I made sure that I rounded up (or down) to the closest number that was divisible by 6 +4 over.
Basket weave stitch:
Rows 1+3: P4 (K2 P4) repeat to end
Rows 2+4 K4 (P2 K4) repeat to end
Rows 5+7 K4 (P2 K4) repeat to end
Rows 6+8 P4 (K2 P4) repeat to end
The button band for this was done by adding a crochet chain into my cast off. I've used some scrap wool and just a few stitches to demonstrate this below. It is a really simple method that I have used for lots of projects.
Cast off half the number of stitches

Switch to a crochet hook

Chain until your buttonhole is long enough

Switch back to a knitting needle

Knit the next stitch as usual – Continue cast off

The finished button hole
Finish it all off with a complementary button – I like these toggles.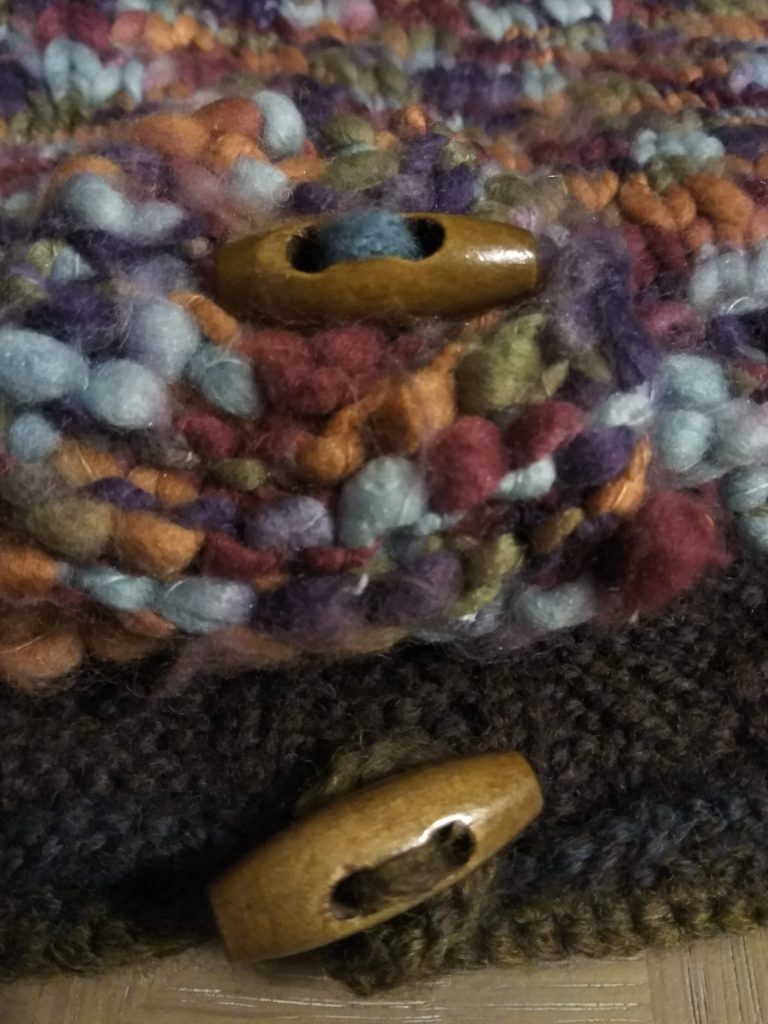 With a bit of imagination, an interesting stitch you want to try and a friend with a "naked" tablet, you have the perfect weekend project.